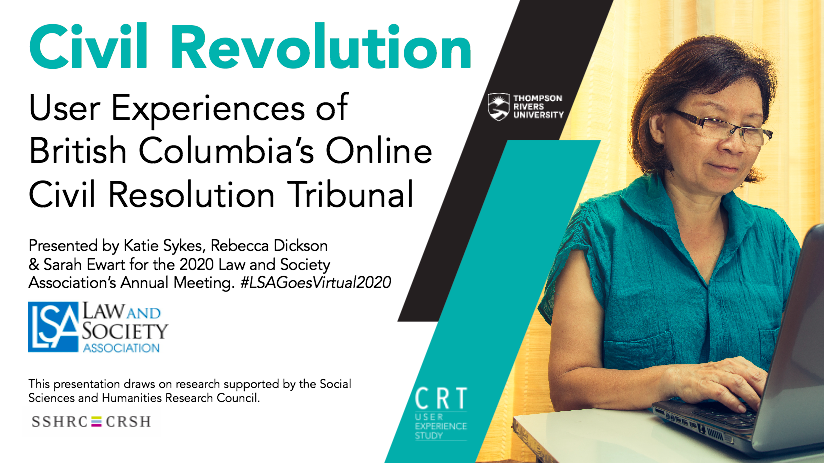 On May 29, 2020 we presented some of the preliminary findings of our research at the Law & Society Association's 2020 Annual Meeting. The meeting was supposed to be held in Denver, Colorado, but because of the Covid-19 pandemic, it happened virtually. People from all over the world were presenting and watching presentations at this meeting, so we started the presentation with an explanation of what the Civil Resolution Tribunal was, before talking about our study and findings.
We are sharing the slides from our presentation here, along with notes on what we talked about while showing each slide.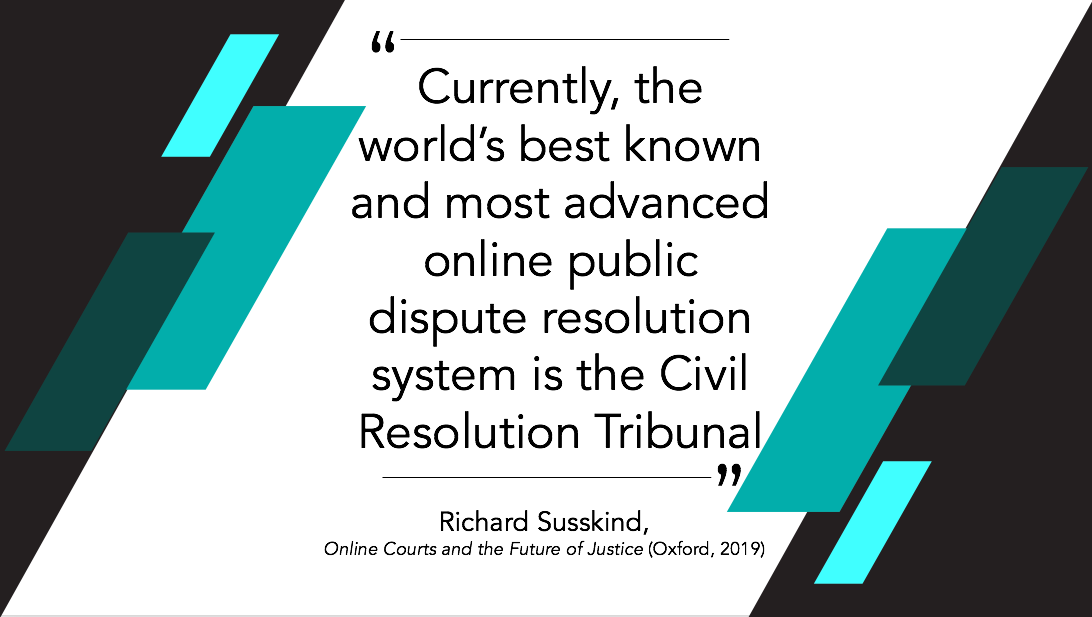 Richard Susskind is the world's most cited author on the future of legal services. He called the Civil Resolution Tribunal – or CRT – the world's best and most advanced online public dispute resolution system.
The CRT is the leading Online Dispute Resolution – or ODR - system in the world but there are many other online justice tools out there.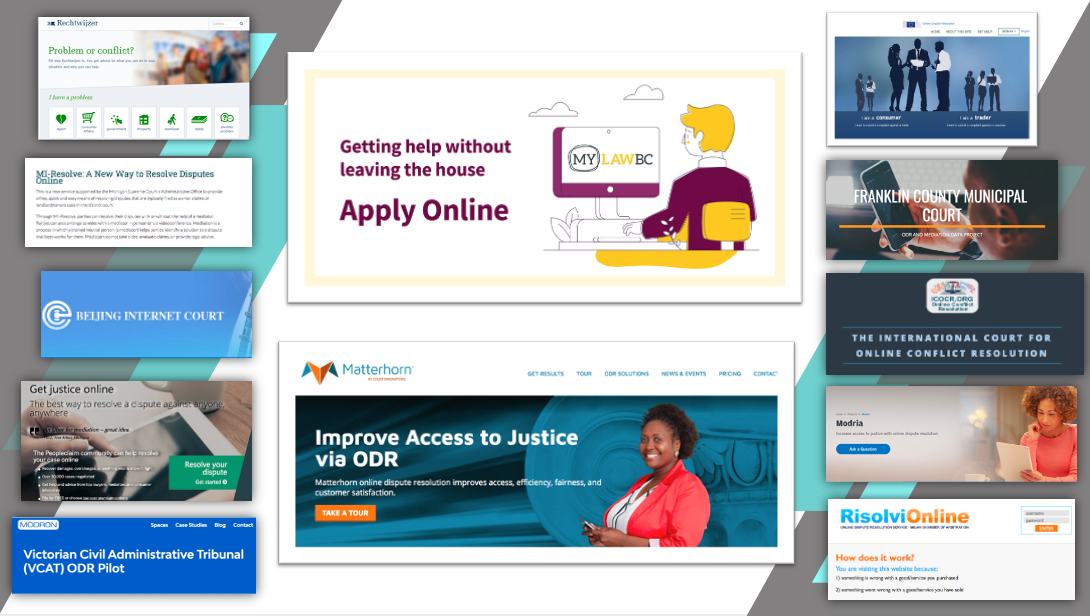 For example, in British Columbia, there is MyLawBC, which doesn't adjudicate claims, but uses guided pathways to provide help through issues like separation, mortgage payments, domestic violence and writing wills.
In the US, there are currently a few different pilot projects for online courts. One to highlight is Matterhorn, which allows county courts from multiple states to host cases involving ticket infractions or small claims.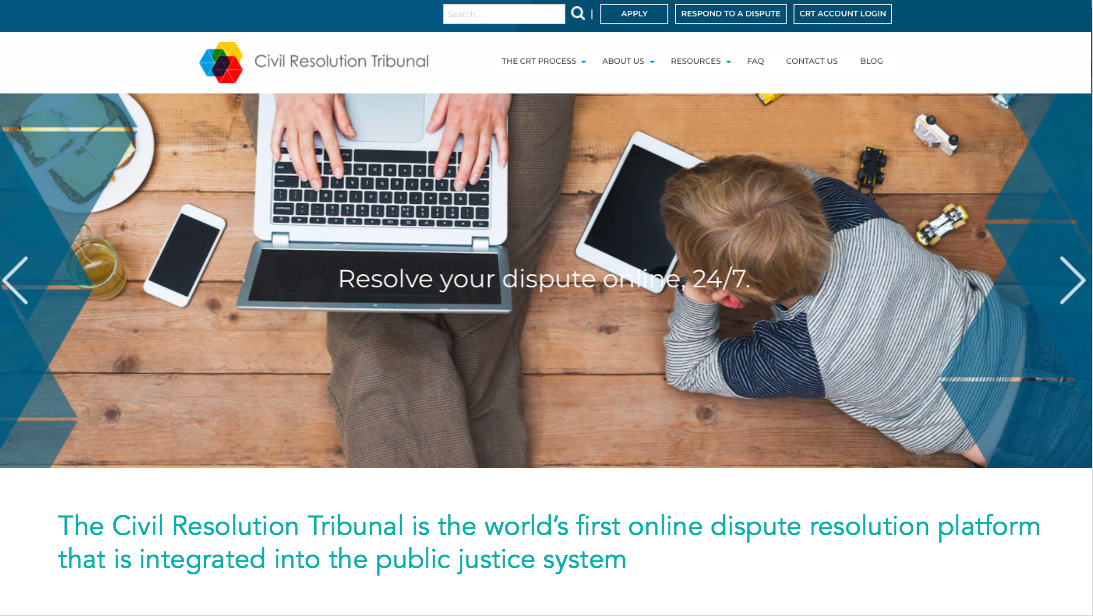 The CRT claims to resolve your dispute online 24/7. Their staff is not working 24/7, but on the CRT's website, you can begin the process of resolving several kinds of disputes at any time of day or day of the week.
The CRT currently deals with motor vehicle injury disputes up to $50,000, small claims disputes $5,000 or under, Strata property disputes of any amount and Societies and Cooperative Associations disputes of any amount. Their jurisdiction has steadily increased since they were started in 2016.
These kinds of disputes have been taken out of the traditional, in-person court system and everything that falls within its jurisdiction now goes through the CRT instead.
One important thing to note is that CRT users are often required to represent themselves and they have to ask for permission to have a lawyer represent them. This doesn't mean they need permission to get help from a lawyer, they just can't have a lawyer speak on their behalf without permission. The CRT put this rule in place because in speaking to the public about their needs, a lot of people were intimidated by the idea of arguing a case unrepresented, against a party with a lawyer, so they wanted to make the process more fair.
Because the jurisdiction of the CRT is still growing, at the time that we conducted the survey used in our study, motor vehicle injury jurisdiction was so new that none of our respondents had had a CRT dispute under it. Small claims jurisdiction had been in place for about a year and strata jurisdiction had been in place for a few years, so most of our respondents dealt with strata issues.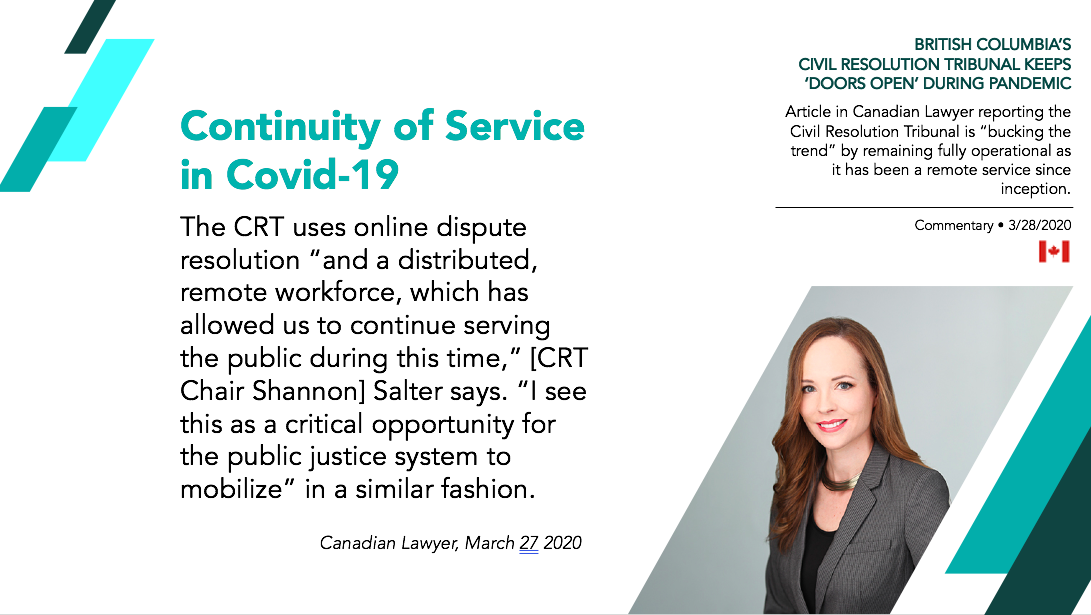 For years, there has been a lot of discussion about the future of justice and more recently, about the CRT's role in it. When we first started this study, we had no idea how soon the "future" of justice would be happening. With the Covid-19 pandemic, court appearances, trials and appeals are happening over zoom all over Canada and the world. Courts are having to come up with electronic ways to process forms on the fly. Many people have been skeptical of moving court processes online, but this has suddenly become necessary.
For the CRT, not much has changed during the pandemic. Many of their staff including tribunal members, lawyers and case managers were already working remotely. Resolving disputes through the system at no point requires face-to-face interaction.
Shannon Salter, the CRT's chair, has been vocal about online dispute resolution and sees the pandemic as a "critical opportunity for the public justice system to mobilize" in a similar fashion to the CRT.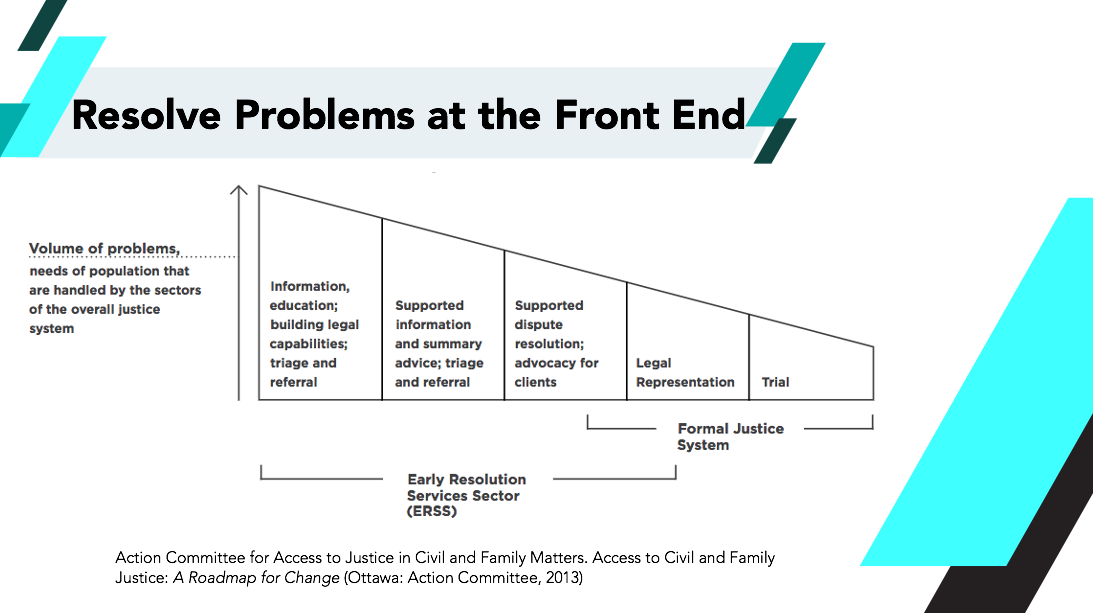 The CRT is designed to reflect the way people experience legal problems in real life. Most problems are resolved through informal means or negotiation and the percentage of problems that proceed through a formal process is actually really small.
One report that emphasizes this is a famous report in Canada, called "Access to Civil and Family Justice: A Roadmap for Change". Most of the problems that people experience are handled at the front end of the spectrum, very few at the far end of the justice system.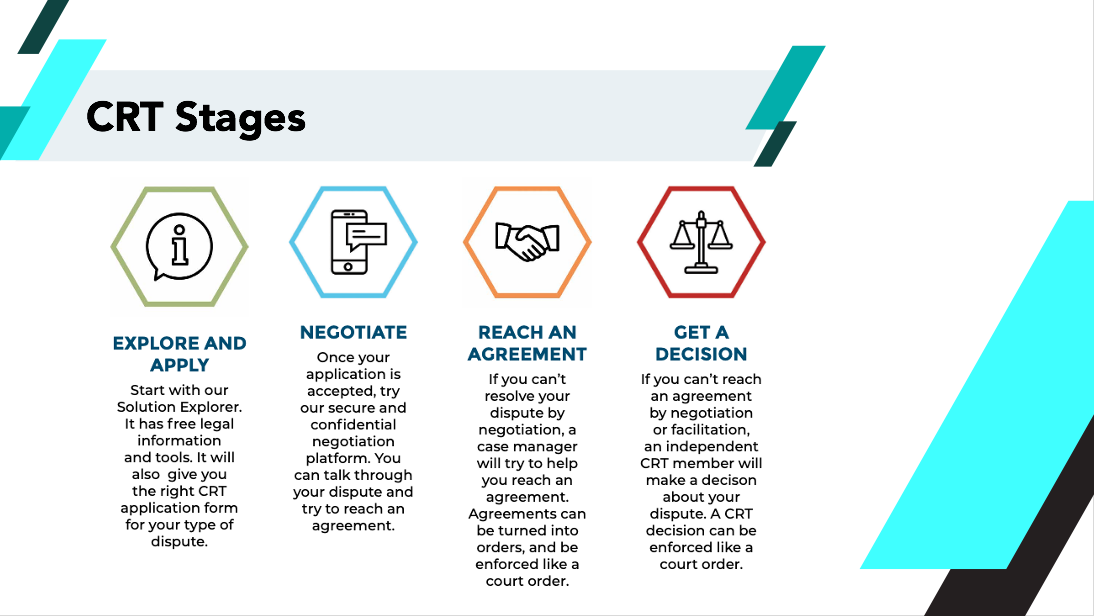 It is this understanding that the CRT is designed around. The CRT takes users through 4 stages and tries to have participants resolve their disputes in the first 3, without having an adjudicator decide the case.
The CRT is based on the principle that the system should be built around the needs of users, rather than justice system insiders. The process was designed with input from the public and community advocates, and they constantly test, get feedback, and change processes in response.
Once a user goes through the process we just went over and submits a claim, they would then continue on through a negotiation phase in which their given tools like letter templates to help them negotiate with the other party. If that doesn't work, they go through a mediation-like phase with an assigned case manager and if THAT doesn't work, a CRT member will make a decision about the dispute, which is also enforceable.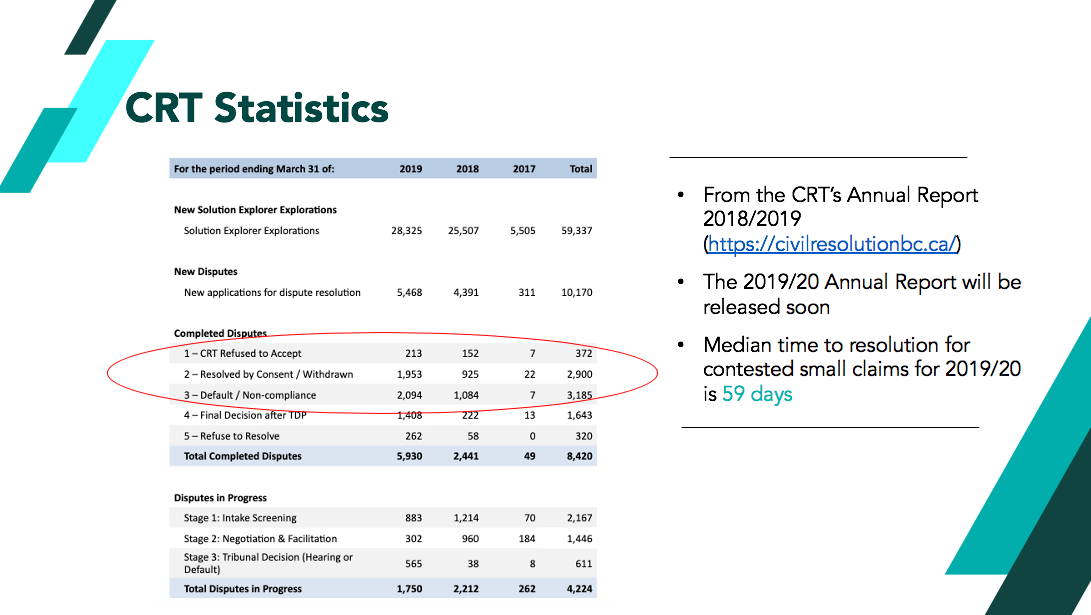 This is an overview of statistics that the CRT released in its 2018/2019 report.  The 2019/2020 report will be released soon, but wasn't available at the time of our presentation. We did, however, know that the median time to resolution for contested small claims for 2019/20 is 59 days.
The CRT uploads their stats and user feedback to their website yearly and monthly. This is significantly more information than the traditional justice system provides or is able to provide.
As I mentioned earlier, the CRT was only given jurisdiction of motor vehicle injury disputes up to $50,000 in April, 2019, so numbers of cases that went through the system will be much higher in future reports.
**TDC means a tribunal member adjudicated the dispute, most claims are resolved before they reach that phase.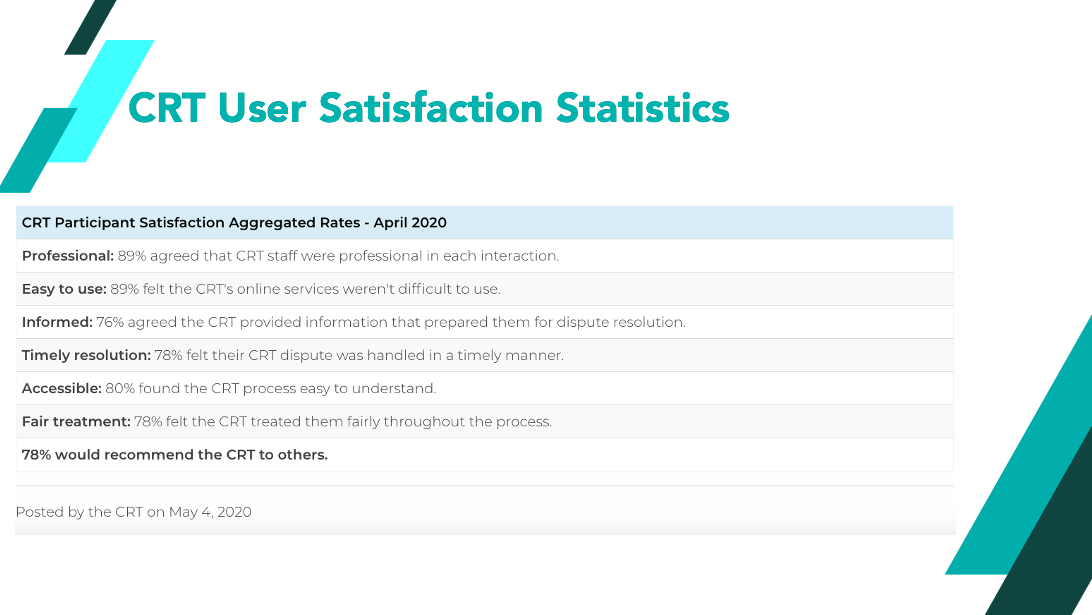 Another thing that the CRT does is ask users to complete a User Satisfaction survey once they've used the system. They release the results of these surveys monthly and the results are generally overwhelmingly positive.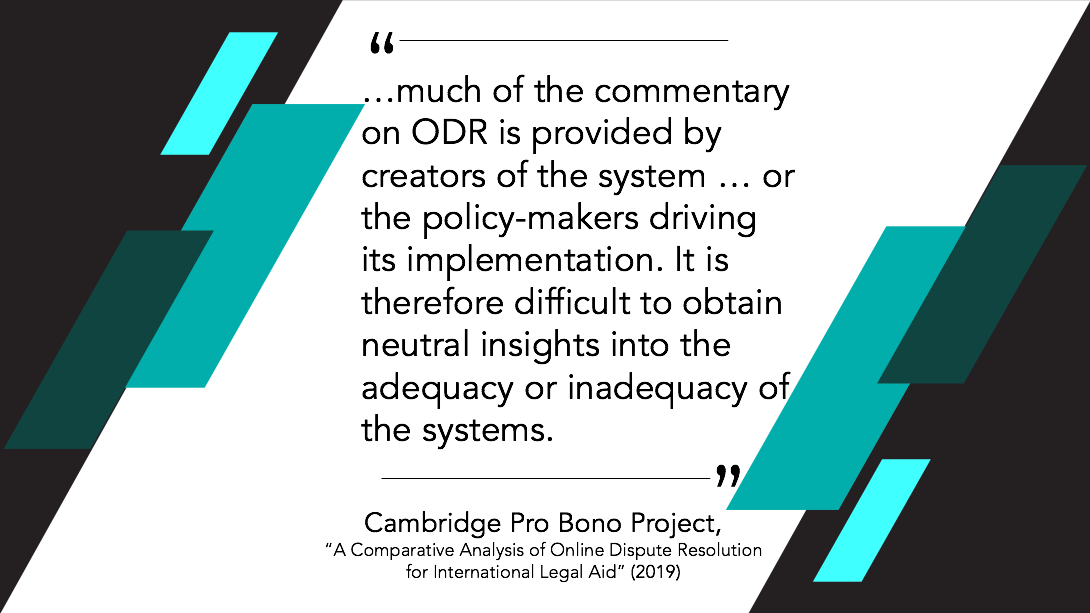 It's great that the CRT runs these surveys and releases these results, but as this quote demonstrates, it's important to have someone on the outside look into user satisfaction. That's why Doctor Sykes decided to conduct this study.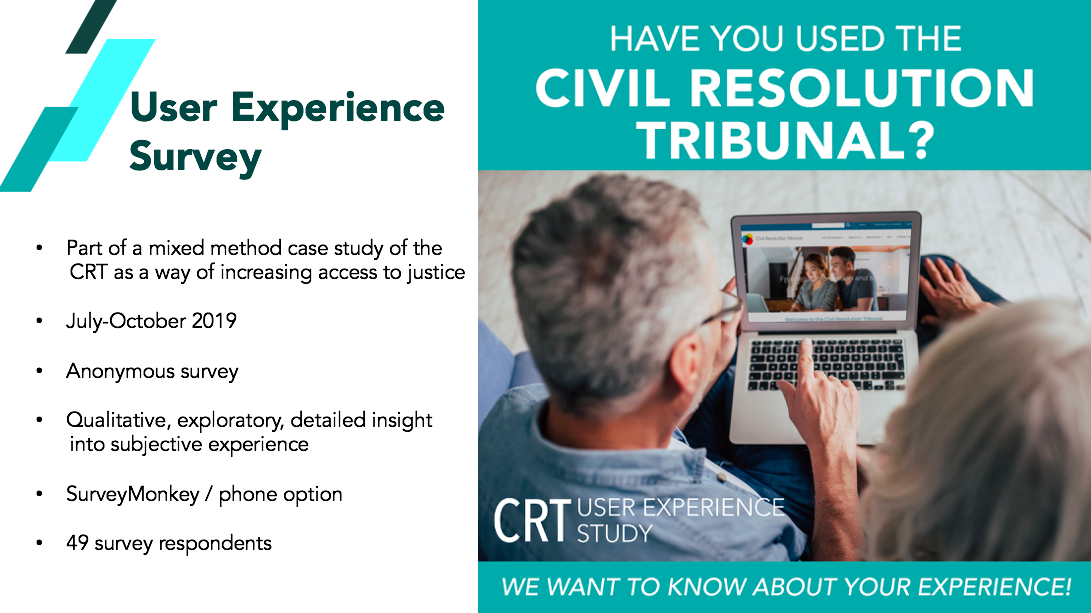 Our research involved an anonymous survey of people who have used the CRT. It asked them about their experience using the system, how user-friendly they found it and what barriers they may have had in accessing it.
We also asked what kind of dispute they had, what the outcome of the claim was, and whether they thought the result was fair. Most participants completed the survey online through surveymonkey, but the option of completing it over the phone was also available.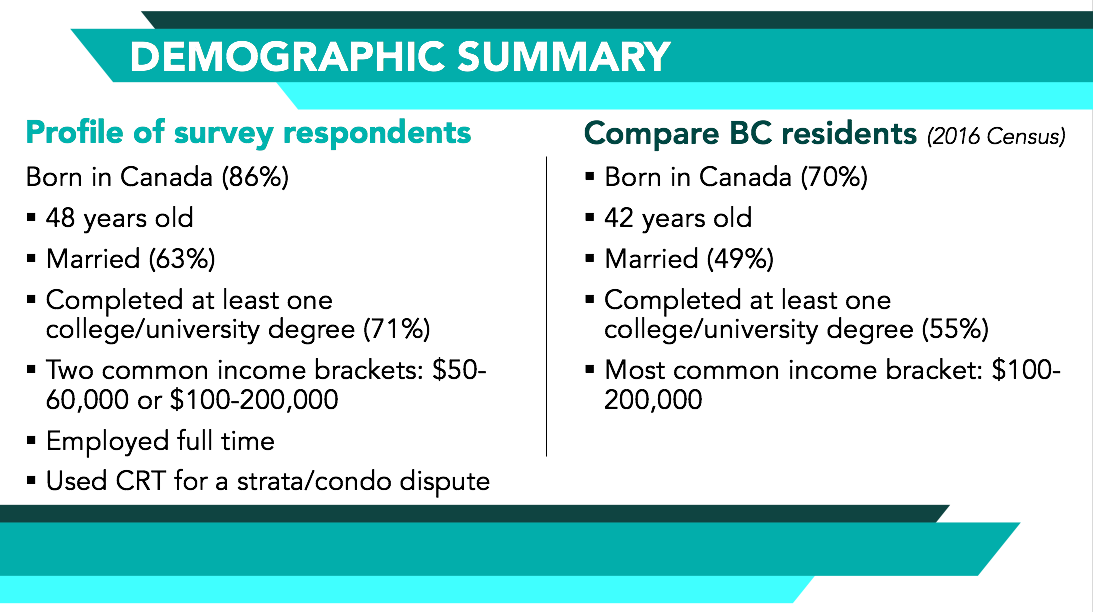 Our survey collected mostly qualitative data (data that doesn't involve numbers, like percentages and statistics). From this data, we can come to conclusions about individual experiences with the CRT. The demographics of our survey participants are not the same as the demographics of the overall BC population (the average age, income, etc of our participants was different than the average age, income, etc of the average person living in BC), but that is okay because our research is exploratory research.
In general, our participants were a bit older and more educated than the overall BC population.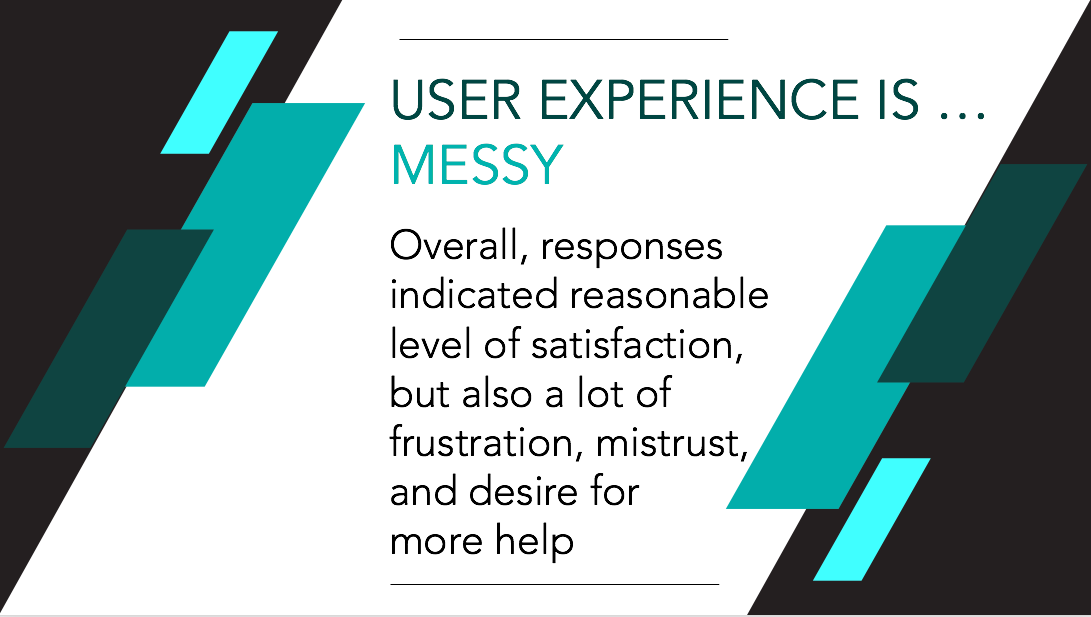 As with any anonymous, voluntary study that asks for people's opinions, our results suffer from selection bias. Selection bias means that people are more likely to click on a link to a survey if the survey is about a topic that they feel very strongly about (whether those feelings are positive or negative).
We can see overall trends in our survey results that show some satisfaction with the CRT, but themes of frustration, mistrust, and desire for more help also appear.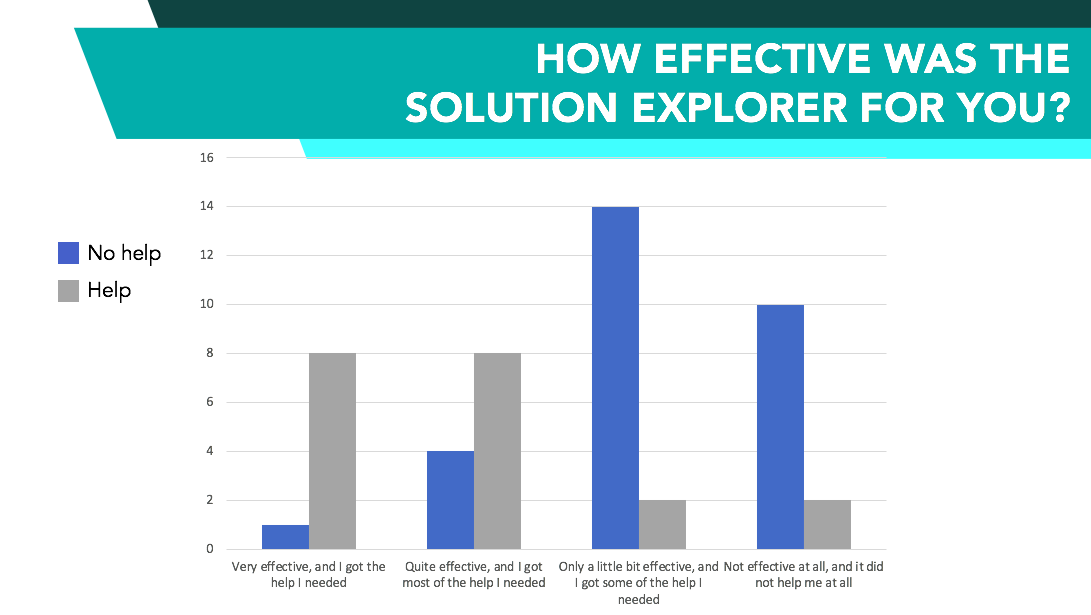 Most people got at least some of the help that they needed from the CRT's first step - the Solution Explorer. What's really interesting is looking at the breakdown of answers between people who had a person help them use the Solution Explorer, compared to people who used it alone.
A majority of people who had someone else help them (usually a friend, and sometimes a lawyer) said that the Solution Explorer was able to give them all, or most of the help they needed. In contrast, most people who used the Solution Explorer alone said that the Solution Explorer only gave them some help, or none at all.
This breakdown shows one of the themes that we're seeing in our results – even though the CRT is designed with the user in mind, people still benefit from having an actual human helper while they use it.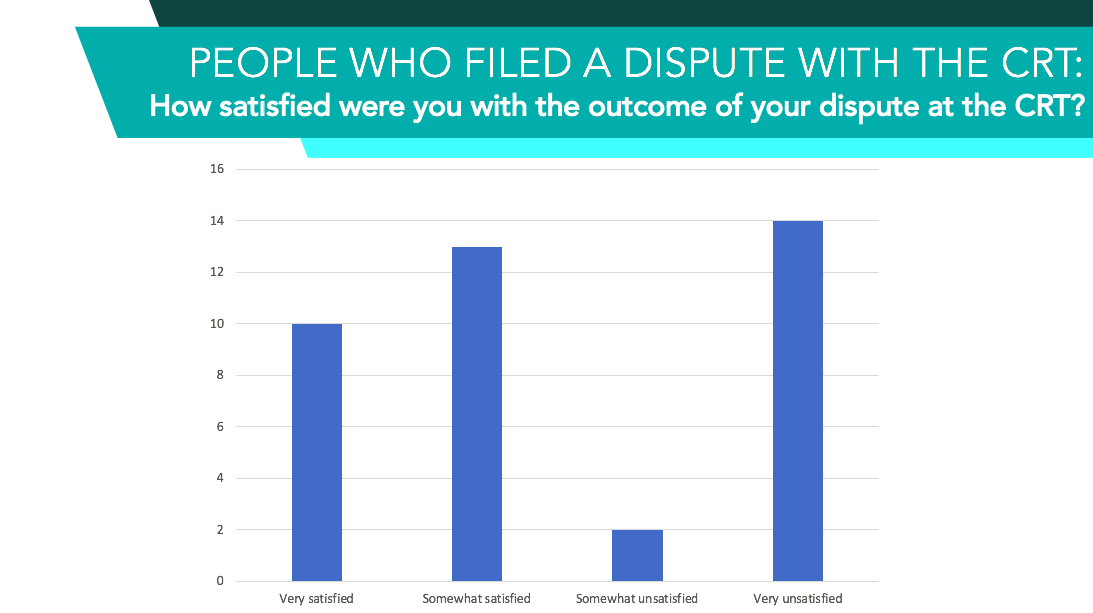 Some people that took our survey applied for help with their dispute through the CRT. Others used the CRT because someone filed a claim against them and they had to use the CRT to respond to it. Out of the people who filed with the CRT, more were satisfied with the outcome of the dispute than dissatisfied.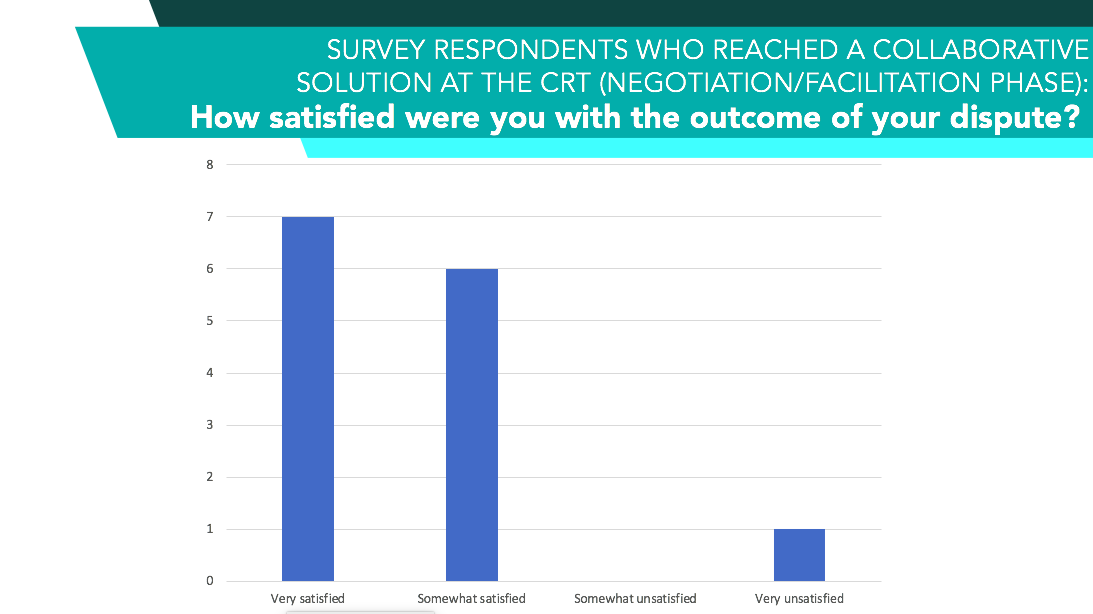 When we look at just those survey respondents who resolved their CRT dispute at a collaborative stage (negotiation or facilitation/mediation), the percent of people who were satisfied with the outcome is very high.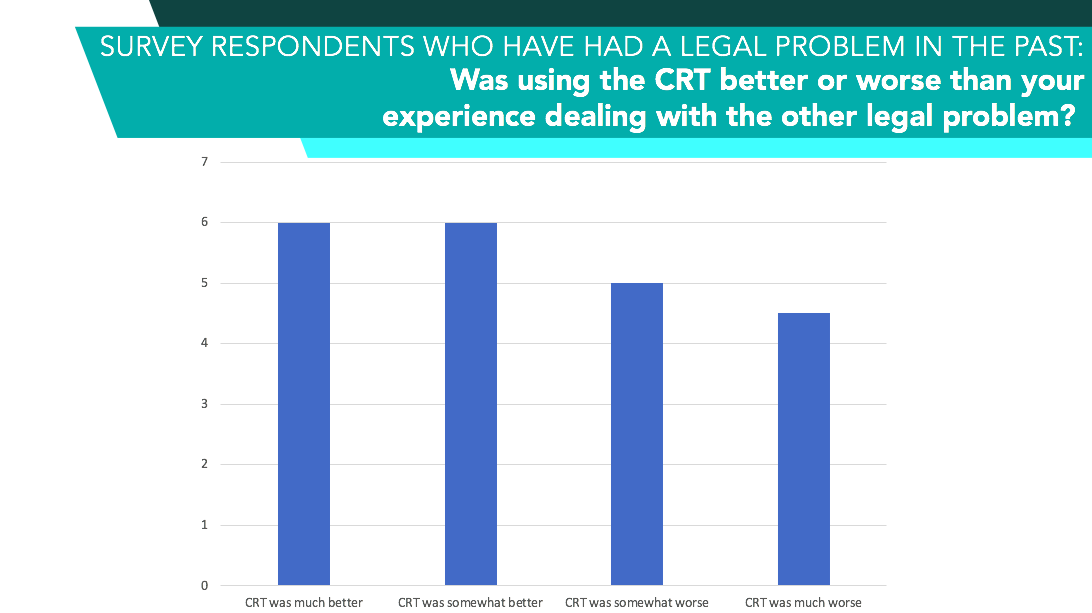 The most interesting (and valuable) answers come from survey respondents who have actually had prior experience with a legal problem. These participants can compare their experience with the CRT to their experience with their other legal problem(s).
Of the survey respondents who had experience with a previous legal problem, most found that using the CRT was better than what they had tried for their previous legal problem.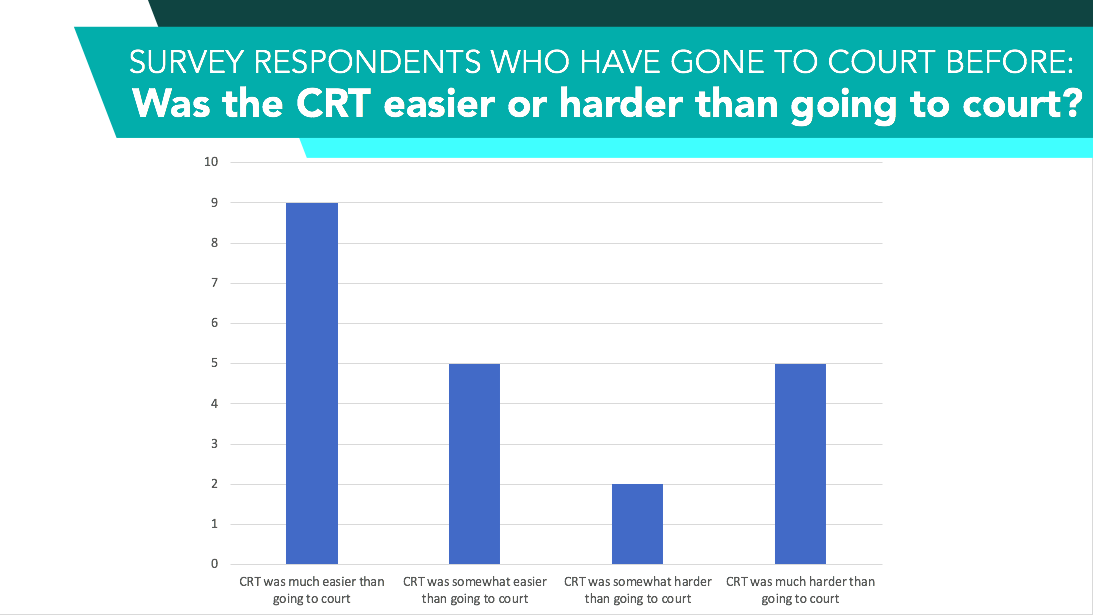 Of the survey respondents who had been to court before, most found that the CRT was easier or much easier than going to court.
People most commonly said that the CRT was easier than going to court because they could use the CRT at any time, and they didn't have to travel to a court building. One reason that people said the CRT was harder than going to court was because court was more in line with what they expected a legal process to be like.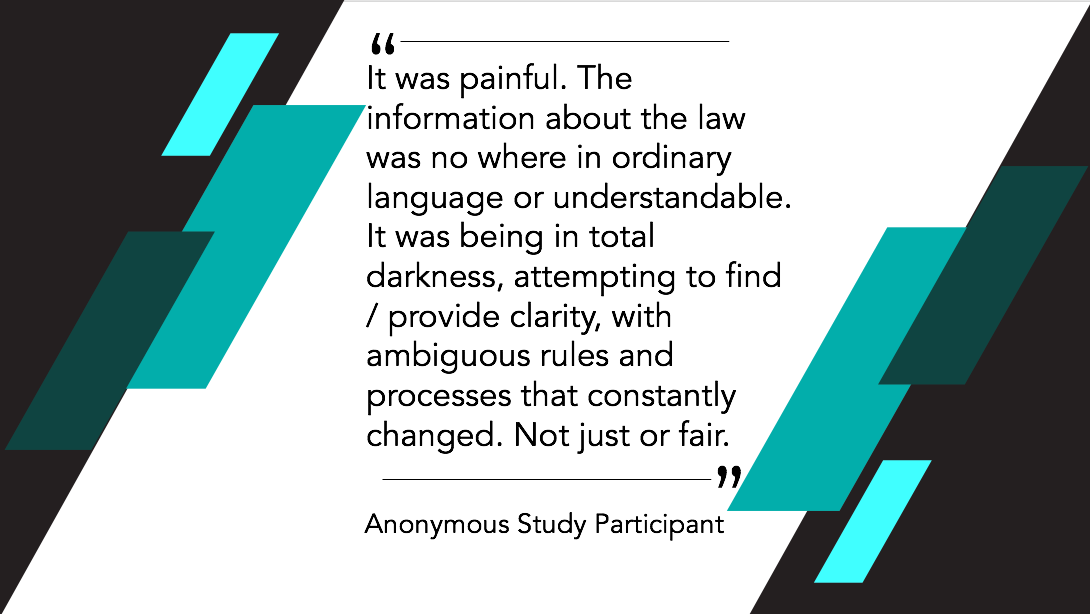 People who took our survey were given multiple choice questions to answer and also a few opportunities to write out their answers or give extra feedback. Our final slides show  a few of the things that people wrote about using the CRT.